IMAGINE ELEVATING THE QUALITY OF CLIENTS YOU ATTRACT WHILE STEPPING INTO YOUR CREATIVE SUPERPOWER…
…without spending money on advertising and marketing platforms or having to spend hours in the trenches of social media!
As an event pro and business owner, you know booking clients depends on your ability to attract your IDEAL couples
✨ the more couples you book, the more money you make ✨
…But There Are A Few Challenges:
Here's the thing…
It's Time To STOP This Nonsense Without Wasting Any More Time,
The Truth Is That…
there are ONLY 2 things you need in order to get the results from your content marketing strategy
It's a simple formula:
CLARITY + MESSAGING = PROFIT
This is the only way to guarantee results and take control of your ability to book perfect couples consistently in the short and long term. 
It all starts with…
That's why I created the
The 4-4-4 for Wedding + Event Business Owners
which will teach you:
how to create a clear and compelling message
that connects with your audience while
attracting more high-end clients online
With My 4 Pillars You Will:
get clarity of what is your superpower, so that you can leverage it in your digital footprint
stand head and shoulders above your competitors by speaking to your perfect clients
create a digital footprint that attracts perfect clients by implementing a consistent message in all your marketing
build a growing + profitable six-figure event business while having more impact, freedom, and relishing in your creative genius!
This 4 Hour Workshop Includes:
LIVE group coaching (Fri 3.11.22 from 12-4 p.m. PST) that guarantees you walk away with clarity and the blueprint to master your messaging.
Accompanying workbook to take notes, follow along, create your plan of action.
Pre-workshop email access to discuss and review the tasks to reach your goals so we can start the conversation even before the course. Your access starts the moment you enroll for the course!
A Content Calendar to easily master your messaging for the next 12 months (or more!)…
Live Training + Workflows that will show you HOW to Become a visible leader
The 4 STEPS to Attract Perfect Clients While Building a Six-Figure Event Business:
1) Identify WHERE Your Perfect Clients are looking: so that you can focus your efforts on a targeted audience.
Dig into your perfect clients' digital roadmap and needs.
2) Showcase WHAT Makes You Unique: so that you can state your price with CONFIDENCE.
Identify your superpower in order to attract inquiries yearning to hire YOU!
3) Create an IRRESISTIBLE About Page: so you can convert visitors into clients with the value you provide.
Articulate your value + your clients' needs in order to attract perfect clients
4) Consistently Message your Value: so that you can streamline your efforts when giving your (PERFECT) clients a chance to see additional dimensions of your personality or your company.
*** Bonus *** 1:1 Assessment of Your Digital Footprint (if you join by Fri. 2/18 at 5:00 PST): so that you can prioritize what seems like a NEVER-ENDING and GARGANTUAN project into areas that will bring you money and table the items which can be done 'down the line'.
PLUS – Walk away with A PERSONALIZED Blueprint to build a six-figure wedding and event business and attract PERFECT clients who cannot WAIT to work with you!
YOUR INVESTMENT: $444
Do you DESIRE to:
do things DIFFERENTLY (within 6 wks of) this year
CATAPULT your business to a new level
have their BEST revenue generating year to date
work with PERFECT clients who VALUE your talents 
but get overwhelmed by:
figuring WHERE to start
deciphering HOW to execute goals
JUGGLING day-to-day business
doing it ALONE
CLARIFY YOUR MESSAGE WHILE LEVERAGING YOUR SUPERPOWER,
SO THAT YOU ELEVATE THE QUALITY OF CLIENTS YOU ATTRACT
What people are saying….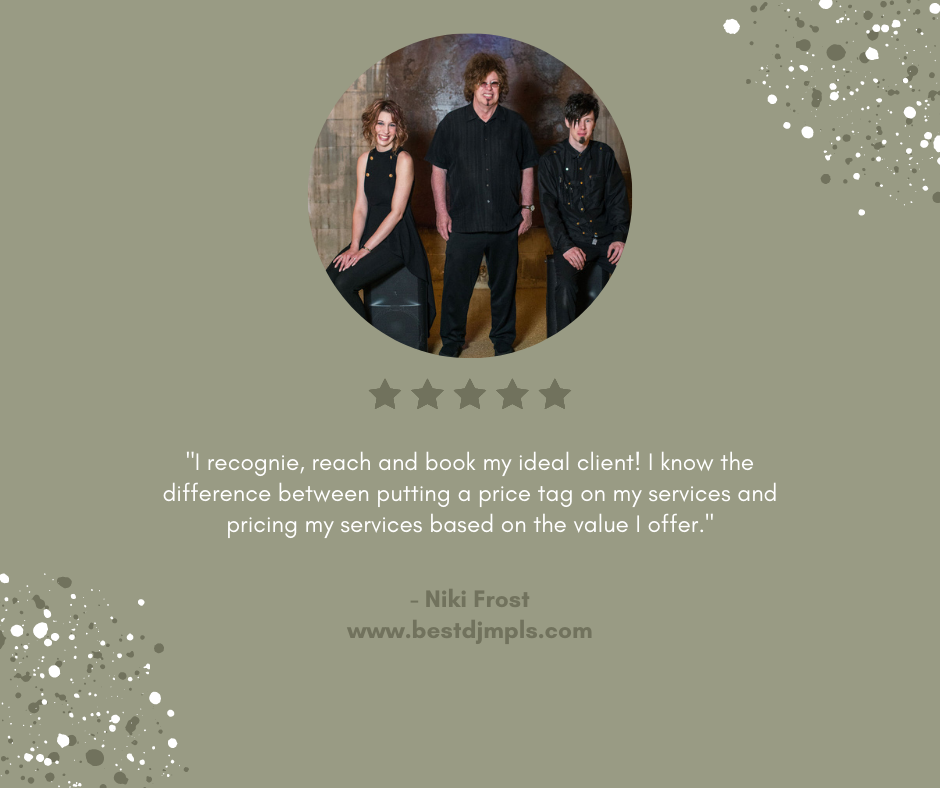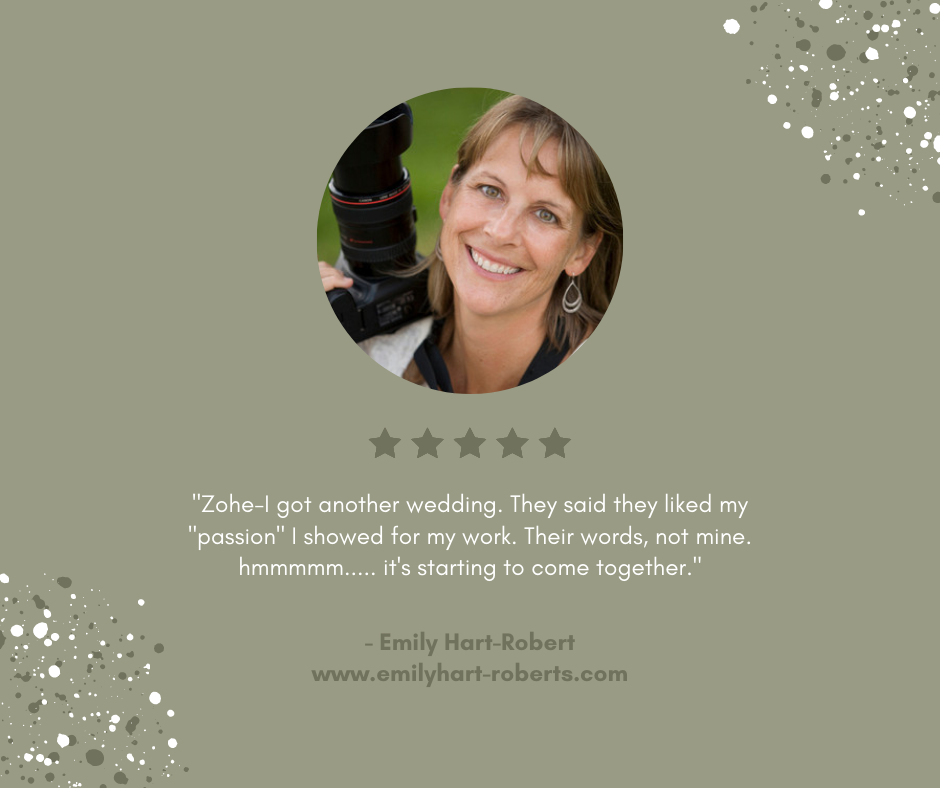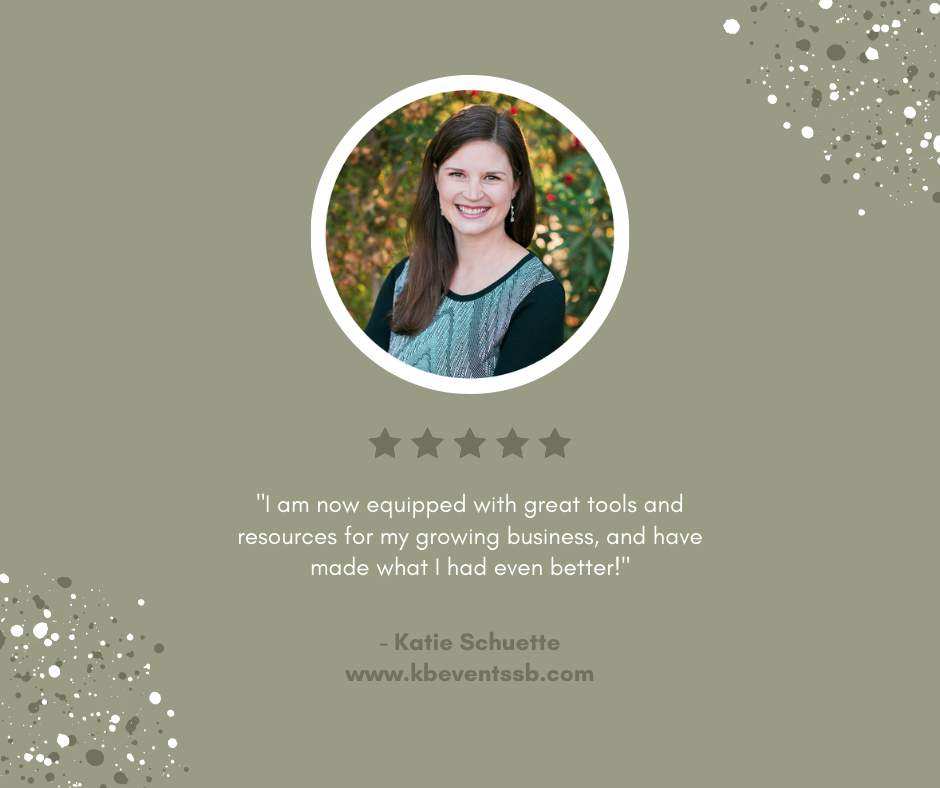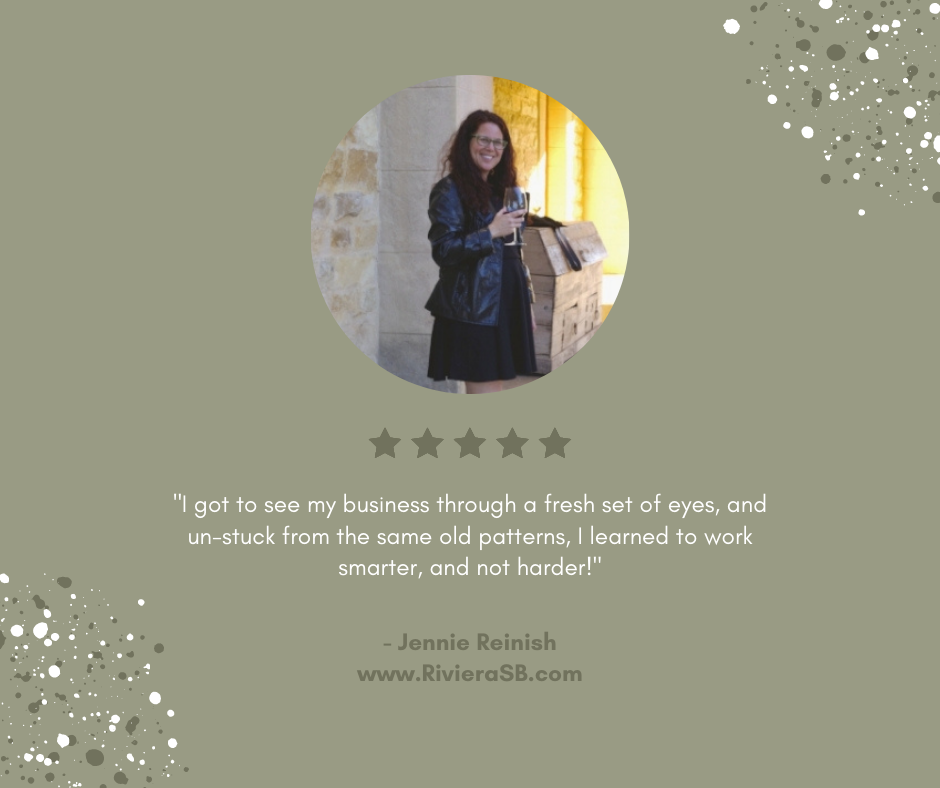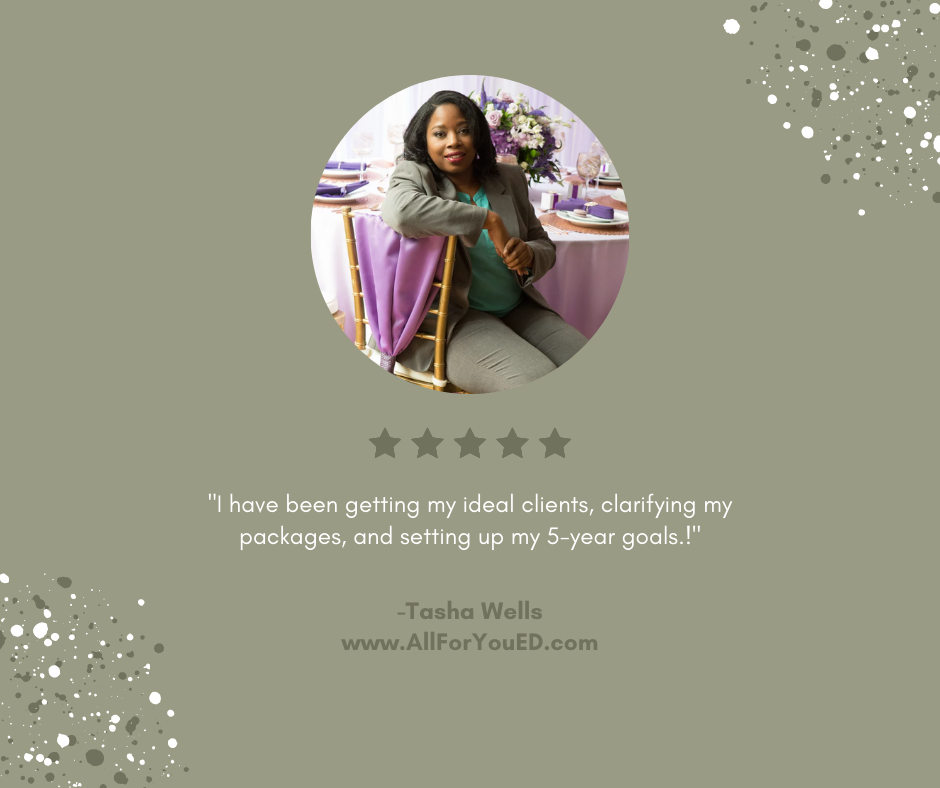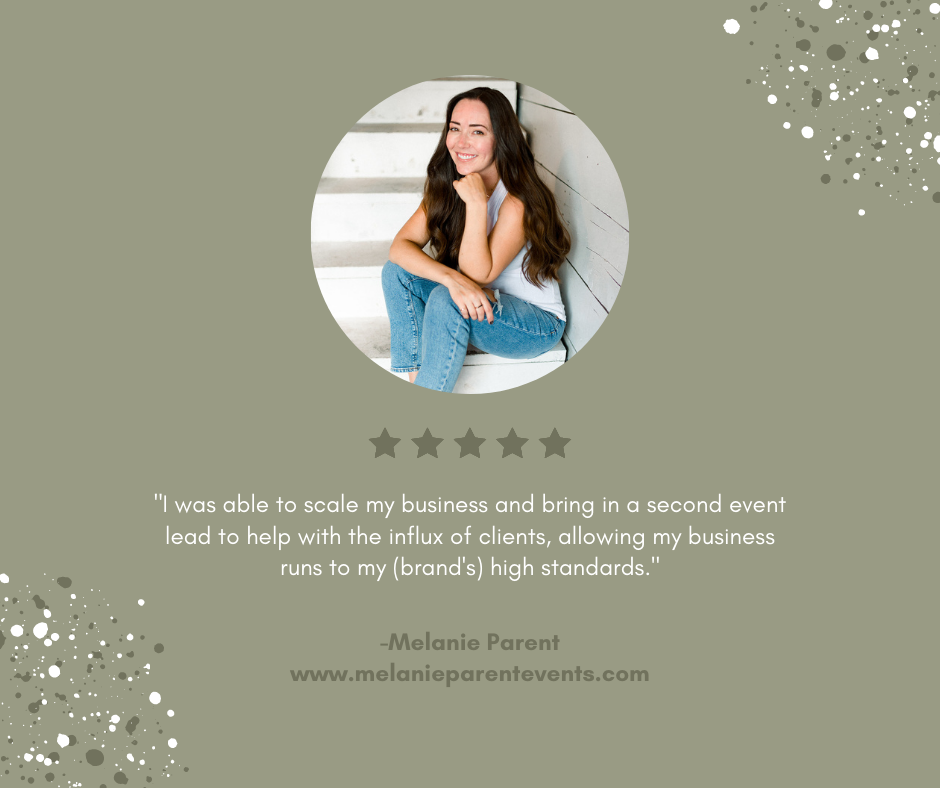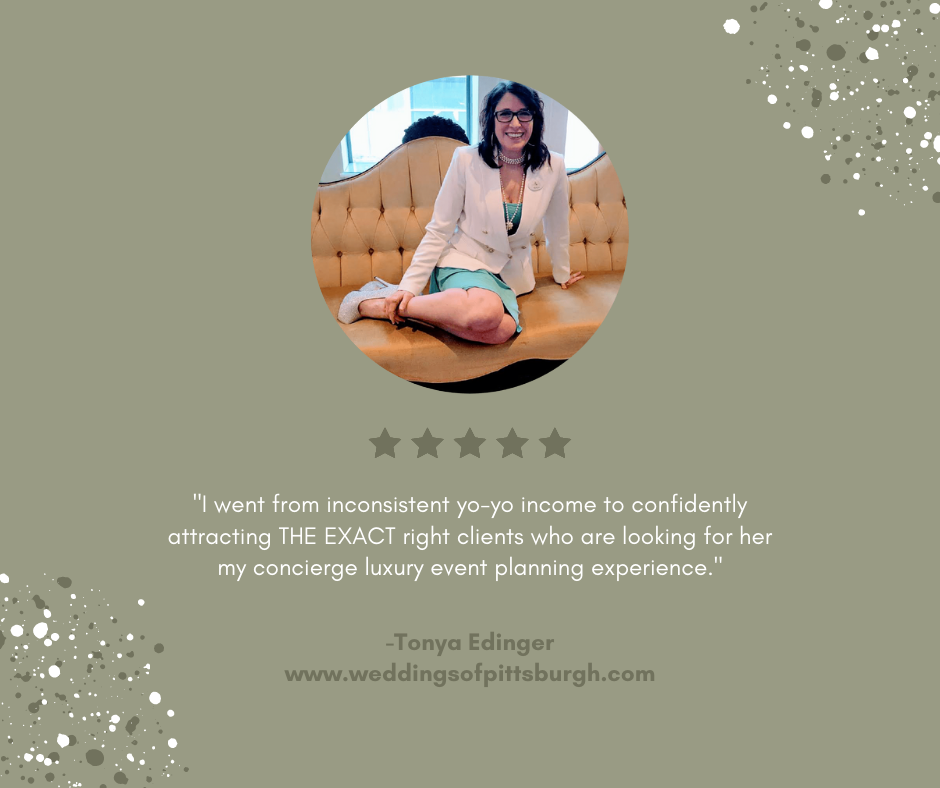 LET ME GUESS…
You ended your event season a little fizzled.
Feeling a bit defeated and somewhat tired (okay, really tired, who are we kidding?!) because of a challenging last year, you are DETERMINED and PROMISE to yourself: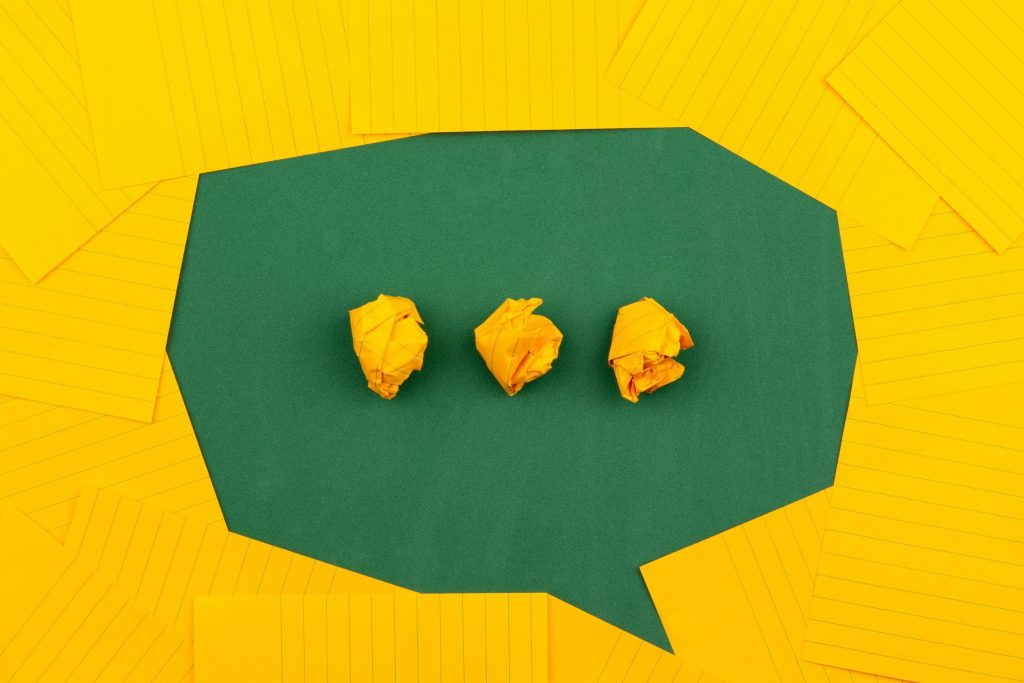 "I AM going to do things differently next season/year/event/week!"
Then, as you take some time off and are rolling right into the to spend time with friends and loved ones, the determination of 'doing things differently' goes on vacation too, except for during down times, or at night when you relax and go to sleep to the waning event biz owner voice which implores "do things differently…." and you respond:
"I will… I WILL! do things differently, SOON!"
YAY, it's the New Year, your intention on setting NEW goals and resolutions re-inflates, and you are ready to TACKLE your to do's! As you conceptualize and resolve to take action, your clients reach out to you and start taking up your time because, "my event is THIS year! I need you NOW!"
So, you put on your "SUPER-EVENT PRO" cape and pivot your focus on your clients' needs and re-prioritize your GOALS and DETERMINATION into the 'as soon as I do this for my clients' list'. That little voice appears less frequently and when it does it asks with petulance:
"ARE we are going to do things differently this year?"
To appease the voice, you validate yourself with:
"What's the urgency?! I SHOULD have time to do those things next week"
ENGAGEMENT SEASON IS NOW!!!, you're full force into the swing of things, inquiries are coming in strong and your GOALS and DESIRE to 'do things differently' have faded because you presume "things ARE different this year!". The voice finally disappears….. UNTIL 1/2 WAY THRU THE YEAR, when you are BURNT OUT and KICKING YOURSELF and the voice is regrettably scolding you:
"you SHOULD have done things differently this past year!"
You glance at your dusty and unused "SUPER-EVENT PRO CAPE" and a once hopeful goals and to do list.
"That's okay", you justify, "there is still the end of next season to: revisit my pricing, dust off my about value page and increase my visibility to work with my PERFECT clients"
………exactly the same as you have done over and over for the past XX years…….ending your event season a little fizzled….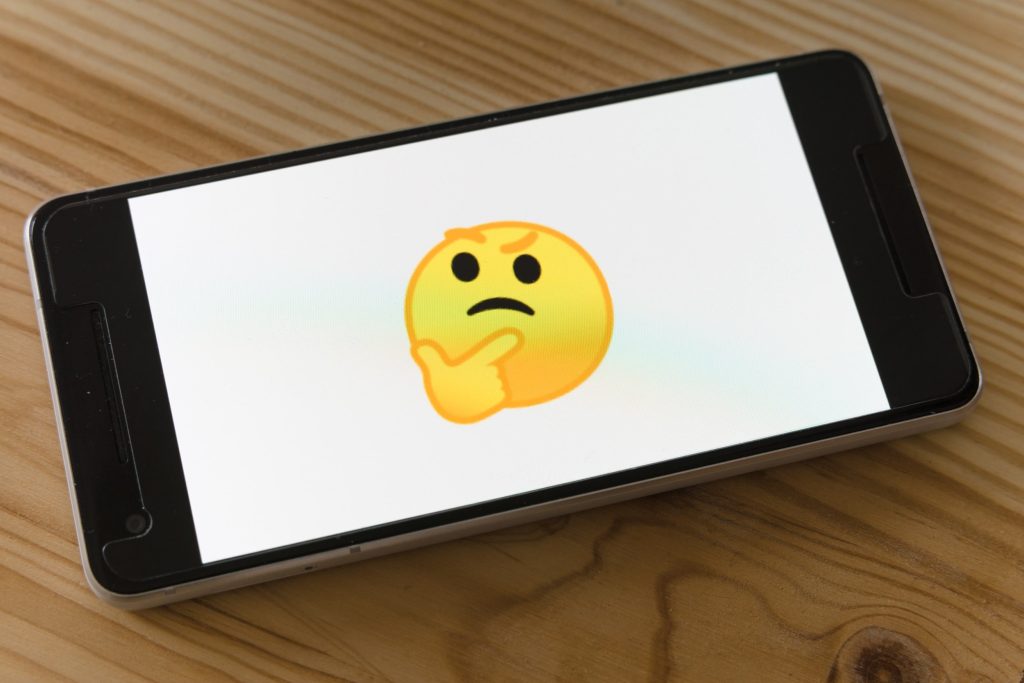 Trust me, I know! I did it for years until I got myself out of my
"Shoulda, Coulda, Woulda" song and dance.
That is why I am absolutely THRILLED to share with you my 4-4-4 Wedding + Event Business Owner Digital Footprint Workshop so that you can clarify your message while leveraging your SUPERPOWER and elevate the quality of clients you attract in 4 hours!!
THIS WORSHIP WILL RADICALLY
TRANSFORM YOUR BUSINESS BY TEACHING YOU
THE BEST STRATEGIES TO BRING
IDEAL CLIENTS TO YOU
YOUR INVESTMENT: $444